A brief history on required and why the + is gone
Although we are still very young – we founded our company at the beginning of 2013 – our history started way before the name required emerged.
The two tales of the beginning
Karin and Paschi worked together at the web agency insign in 2006, while Silvan and I met at the beginning of our apprenticeship as Mediamatiker in the same year.
Silvan joined the company insyma, where I was already working at the time (after our apprenticeship). And since we couldn't stand each other (kidding), I quit a couple of weeks after Silvan started. It was just time for something new. However, the two of us have always been friends and we would also keep exchanging our know-how on the web industry. Silvan eventually moved on as well and met Karin at Namics – still the largest web agency in Switzerland. They really hit it off and became the link that united us. Paschi moved back to Germany, where he is originally from, but kept in touch with Karin.
A name is born
In 2009, Karin and Silvan went to atmedia in London and were very inspired by the talks they saw at the conference. On a night out with some of the speakers, they decided to start something together and registered the domain required.ch.
Both Silvan and Karin kept working at Namics, while thinking about their new brainchild required+.
They knew a lot of people who weren't entirely satisfied with their day jobs and presented their idea of required+:
A network of like minded people, where each member would work under the name of required+. They would use the reputation of the name, but remain completely independent.
The + in the name of required stood for this extended network of independent freelancers. Most of these freelancers only met on one occasion: when the initial idea was presented.
Everyone kept their day jobs, while working for or in the name of required+. Some of those members were really active, while others didn't bother much.
Soon, the network developed some sort of core team with the members who were the most active and brought in their own ideas: Karin, Silvan, Paschi & myself.
Meet the core team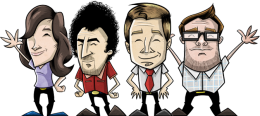 Since the four of us already knew the other members pretty well, we formed the core team who would coordinate with the other members, acquire new clients and work on projects.
One of those projects was Freshjobs.ch, an idea which surfaced even before the concept of a network.
Status quo of the core team
In mid of 2012, Silvan was already working as a freelance developer full-time, while studying at the university of Lucerne. Karin was working at 20min.ch, where she was responsible for the new mobile version of the biggest online news platform in Switzerland while completing her Master of Advanced Studies in Human-Computer Interaction Design. Paschi was working as an independent PHP Developer working from Germany, but he was always very fond of Switzerland and kept supporting some of his clients there. I worked as an Interaction Designer while studying Communication Design in Berne. And because my request for an extended vacation was denied by my employer, I decided to quit and take some time off; only to start as a freelance designer, where I could focus on being my own boss.
So at this stage, the four core members were all freelancing full time, collaborating on projects, working with clients; all under the name of required+.
Starting a company
We all were registered as self-employed freelancers and required+ was just an umbrella, under which we would approach clients. Our clients didn't exactly know whom they were dealing with: The entity required+? The freelancer?
That's when we decided to form a company together. The four core members would be the founders of the new required gmbh (LLC) while the other members remained independent freelancers.

Over time, we realised that on most of our projects, it was just the four of us. The other members never really had time to collaborate because of their other jobs. We also realised that it's a great risk to give people the opportunity to approach people in the name of required+, while not being responsible for the name.
Shifting focus
We came to the conclusion that the idea of this network (we refused to call us an agency, or a studio) didn't really work out for us.
Since most of the members had very solid jobs or successful ventures on their own, we decided to discontinue this form of collaboration.
We still work with freelancers and partners on some occasions – of course, we aren't experts in every field – but they are their own businesses and present themselves as such.
Ditching the plus
We are a healthy and growing agency, but since the initial idea of being a loose network of freelancers isn't a core value anymore, we ditched the plus from our logo. If you happen to know us already and always wanted to know why there was a "+" in our logo: I hope this post presented you with some insights.
So, what are we now?
A web agency specialised in User Experience Design and WordPress development.
---
We also extended our team, make sure to get to know all of us.