More than a portfolio for Boris Baldinger
Characterful website for personal branding and business photography
Boris Baldinger is a specialist for personal branding and business photography. With him, people become personalities, heads of character become brands. In his photos, he reflects what someone stands for and works for. However, his original website from 2010 no longer reflected his open character and his highly qualified work. By relaunching the website, we were able to bring out his personality once more. The result is an organised, lively and colourful website.
We have known Boris for many years and had the pleasure of doing a personal branding shoot with him in Paris for all our staff. The pictures are rigorously used on our team page. Boris is also our partner photographer for our client projects. Therefore, it was clear to us that we wanted to tackle the venture of creating a contemporary online presence for him. In a start call Boris briefed us about the new focus and the feeling he wanted to bring across. We made design and feature suggestions that went down well and so we got going with the new website pretty quickly. The basis is WordPress with its block editor, although full-site editing also plays a role and will certainly do so more in future WordPress versions.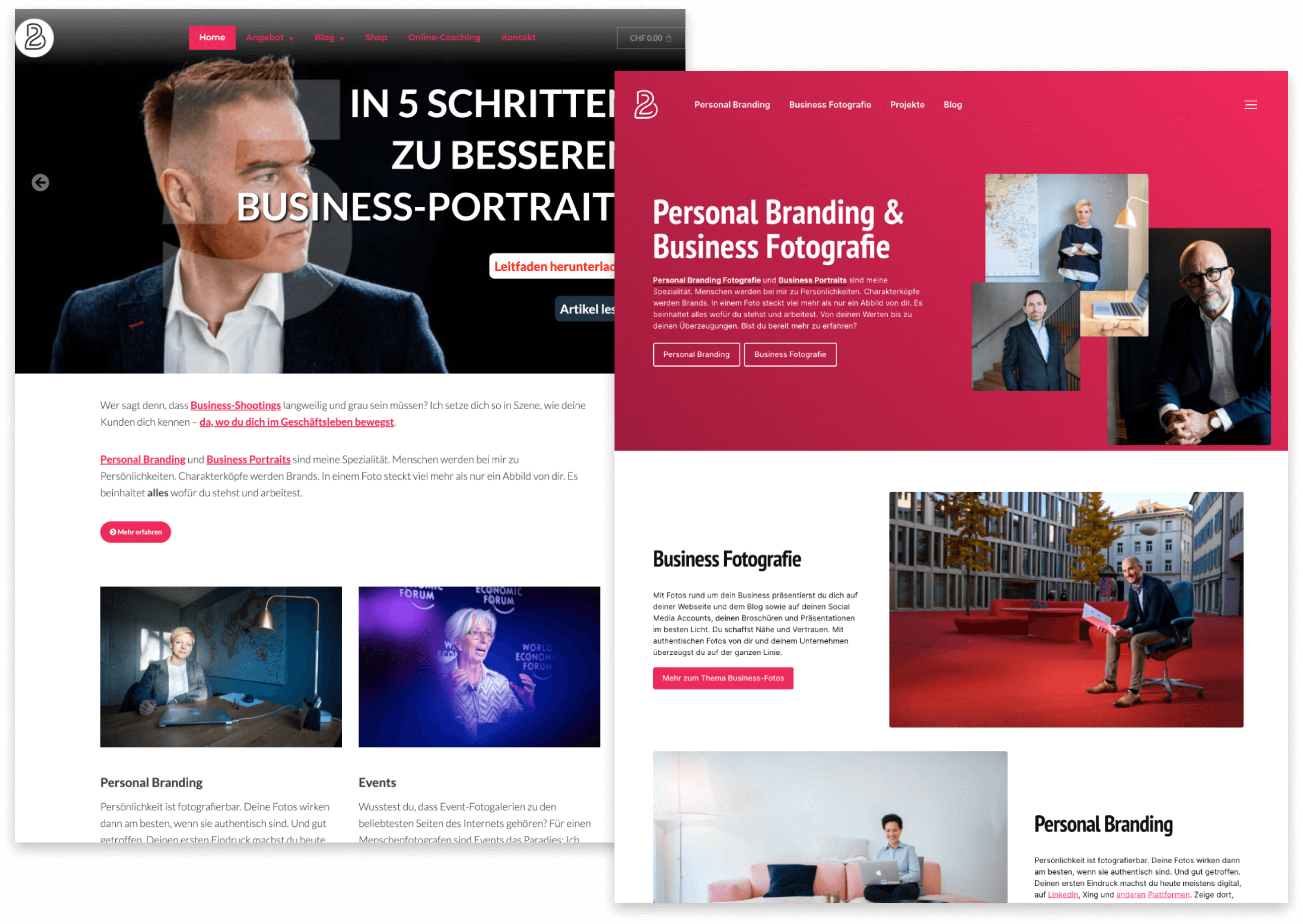 A design with personality

The focus after the relaunch is on Boris' main branches of personal branding photography and business portraits, as well as a portfolio and blog where clients can get an impression of his work. It was also important to him that clients can easily contact him and get important information easily. Who the website users are and how they behave so that you can address them in the best possible way is also essential to know. We migrated his drip marketing connection, created custom templates for his specific campaigns and tracked all pages and important buttons using Google Tag Manager.
The website should not only give many impressions of Boris' skills and be pleasant to use, but also give him more expression as a person. Together we decided on a colourful, uncomplicated website, with some special touches such as the specially designed header element, with freely selectable content, so that the target group is well picked up and guided. But for the new design to really shine, it needed relevant content. For this, Boris himself updated numerous blog posts and added many new exciting projects. We are confident that this new website is well prepared for the years to come.
Quick Facts
Complete renewal of the website including design and programming
Migration of images and blog articles
Implementation of customised design features
Responsive design for all devices
Tracking via Google Analytics, Google Tag Manager and Facebook Pixel
Marketing integration
SEO optimisation
Custom design template
Custom WordPress Block Styles

Type
Photography website
Client
Boris Baldinger
Services
Design, Frontend, WordPress
Website
https://boris-baldinger.com