Selling event tickets directly via website
The new mobile ticketing system for Kaufleuten in Zurich
For an event location, the accessibility of its offers is the most important thing of all. Kaufleuten asked us to redesign their website with the "mobile first" approach, as well as to integrate an online payment system so that their customers can purchase tickets to club, concert and cultural events directly and from anywhere.
Today, not only events can be viewed while on the move, but tickets can be purchased at any time directly from the website and with the most common payment options.
Customer request
Since an important part of the target audience is young and dynamic, Kaufleuten wanted to improve their website for mobile devices. They also wanted to add the possibility to sell event tickets directly via their website, so that the box office has a better overview of their guests, allowing them to enter the events more quickly and efficiently.
Our Solution
New user guidance concept
The topics of Kaufleuten are versatile. In addition to the club, there are exciting cultural events, various bars and a restaurant where guests can enjoy a cosy dinner before an event. Since mobile devices were in absolute focus, we designed and implemented the design for small screen sizes (Mobile-First). The new navigation concept leads the different target groups better to the desired areas. Visually, those interested in restaurants and culture are supported in a bright dress with a focus on good readability, and clubbers are picked up with a darker look & feel to get the rather younger target audience into the mood of the nightlife.
Takeover of the event management
The Kaufleuten has been working with a tailor-made event management system for over 10 years. We took over this PHP-based custom development solution and extended it functionally according to the new wishes and requirements. The event management system now communicates with the website when it comes to ticket sales, restaurant reservations or the sale of vouchers. The website stores all data in a structured way in the system, so that each department of the Kaufleuten can manage its data centrally.
Payment-Integration
We extended the website with a payment integration so that tickets and vouchers can be paid for through the website. The ticket is sent to the customer by e-mail as a PDF file and contains a QR code for quick processing of the box office (scan). In addition, the client always has up-to-date statistical data to see how the events were occupied or attended. This data is then used for further processing with internal accounting or external event organizers.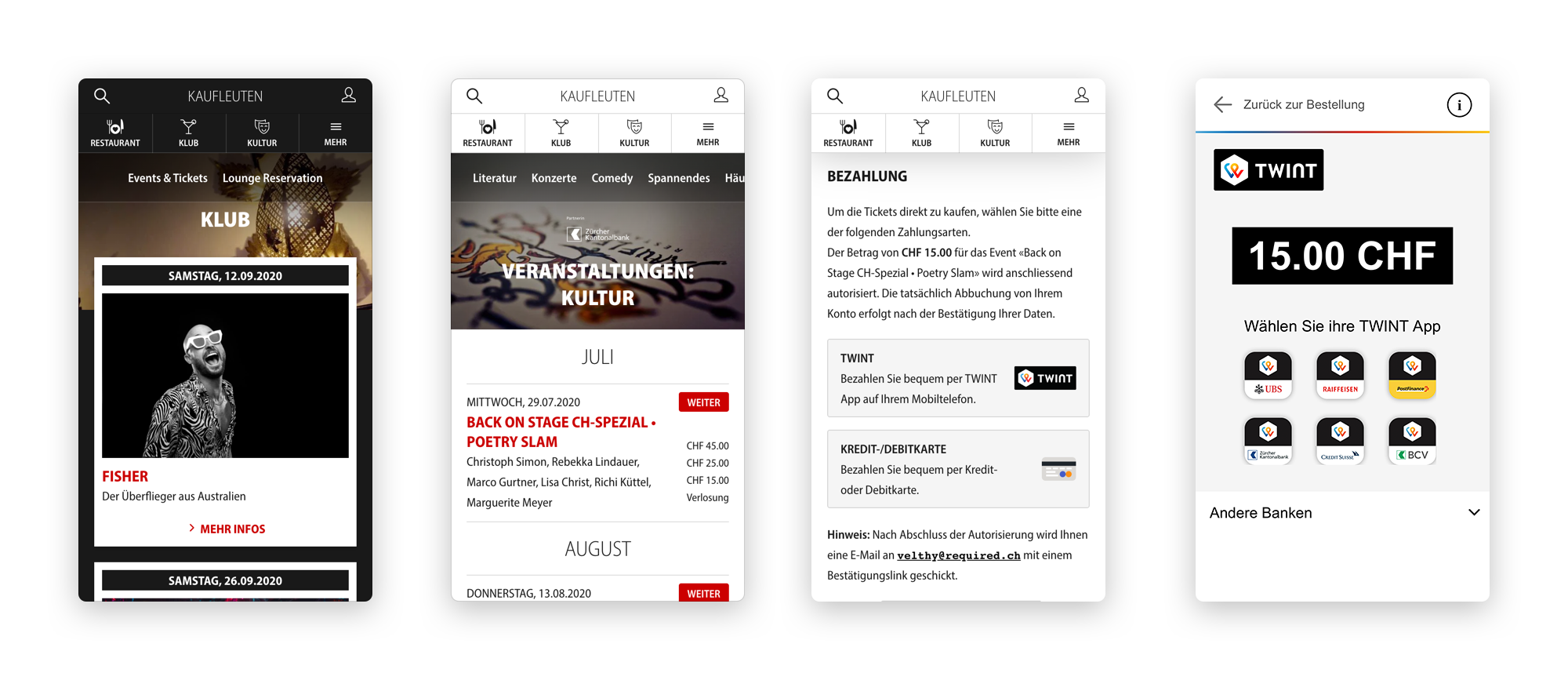 Quick Facts
Kunde: Kaufleuten Restaurants AG
Branche: Event & Gastronomie
Endprodukt: Mobile Event-Website with Payment-Integration
Link: kaufleuten.ch
Unsere Leistungen:
Needs analysis

User Centered Design (Mobile First)

Visual Design &

Responsive Design for mobile devices

Implementation & user interface develompent (frontend)
Takeover and expansion of the custom event management system (PHP)

Support & Maintenance (Retainer)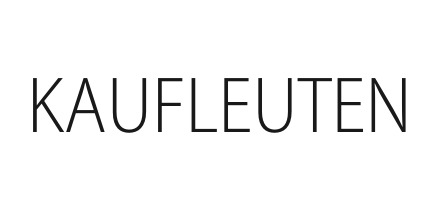 Type
Website & Payment Integration
Client
Kaufleuten
Services
Design, Frontend, WordPress
Website
https://kaufleuten.ch/